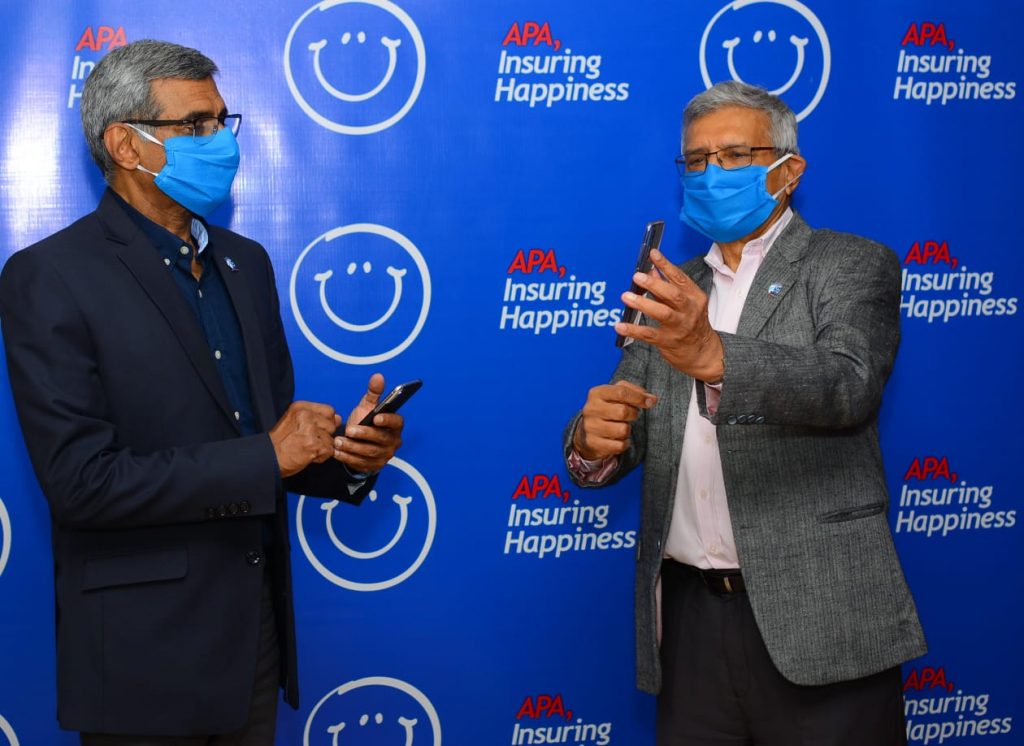 Vinod Bharatan (L) CEO APA Insurance reviews the new APA Insurance app with Ashok Shah (R), Apollo Group CEO. [PHOTO/ COURTESY]
APA Insurance, one of Kenya's leading insurers, has announced the launch of their innovative APA Insurance Happiness app.
The launch of the app will enable Kenyan's to make fast and safe motor insurance purchases, renewals and report claims easily on their mobile devices anywhere and anytime.
The new free app features for clients includes renewal or purchase of their motor insurance, file claims and provide up to date records. In addition, the app gives location of their country wide partner garages in case of an accident.
The agent's app will enable them to access a premium calculator, agent account management, pre-insurance inspection and renewal on the go, making them more effective and efficient when interacting with clients and potential clients.
Read: NTSA Opens The Roads For SWVL To Resume Operations
"The Covid-19 pandemic and subsequent need to enforce social distancing has changed the way that we live, work and travel currently and has triggered a real drive across Kenya to shift from traditional channels to digital channels in order to enable citizens and businesses to access their motor insurance remotely and securely," said Vinod Bharatan, CEO APA Insurance.
"The launch of the app is strategic as many of our clients and agents switch to remote working, in line with the Government advice for people to work from home. The app provides peace of mind and flexibility for changing circumstances."
As acknowledged by Bharatan, APA Insurance has seen a surge in demand for online services and the app aims to serve as a solution that provides customers with freedom and security online anytime, anywhere.
Read:  Centum Launches Ajiry, An App That Connects Job Seekers With Potential Employers
"As the number of mobile apps and messaging platforms users grows, we will leverage our in-house digital capabilities to further elevate customers' experience by taking our digital service to the platforms of their choice," added Bharatan.
How the APA App works
The sign up is easy, convenient and free: once customers and agents download the APA Insurance app and register for the service, their virtual account will be issued instantly.
Key benefits include:
Customers can purchase or renew their motor insurance and received the digital insurance certificate instantly
The app provides a tailored dashboard in a single overview and provides access to payment history, benefits and claims details
At the same time users can upload accident photos and file a claim report instantaneously
In addition, the APA Insurance app provides coverage against fraud, safeguards and supports customers in case of defective or damaged online claims.
"With a highly mobile and young workforce in Kenya that embraces mobile technology in all aspects of their lives, the APA Insurance app provides the solution: simple, flexible policies, designed to meet 21st-century needs and currently social distancing requirements," said Bharatan.
For all the latest technology and business news from Kenya and the world, follow us on Twitter and like us on Facebook.