Enwealth Fanisi Program Hits New Milestone In Supporting Underprivileged Students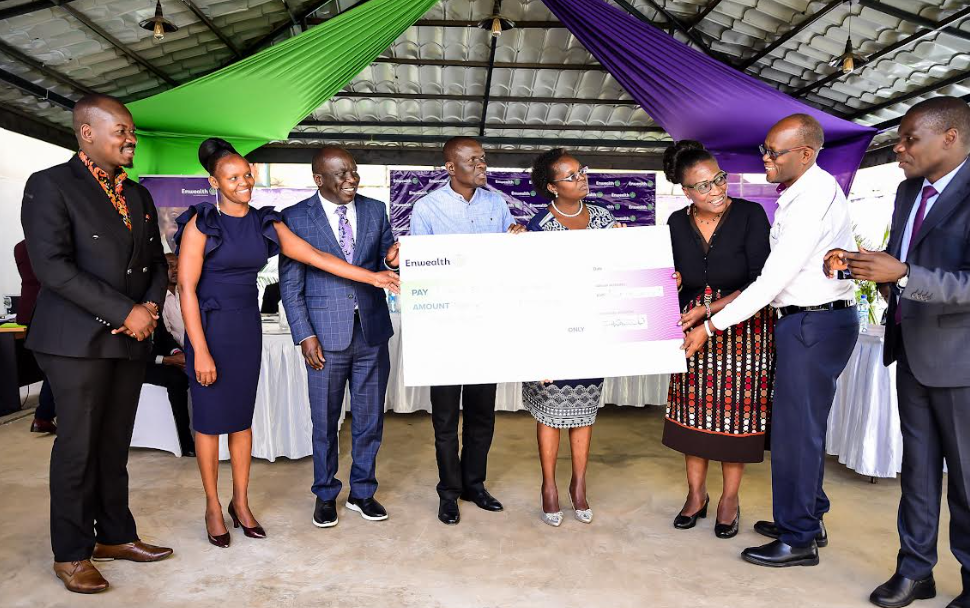 From the right: Enwealth CEO Simon Wafubwa, Dr. Ken Monyoncho, Dr. Rachel Monyoncho, Sharon Kisire, Commissioner Timothy, Dr. Sammy Wanyonyi, Ms. Viola Sanga, Pastor Wendo. [Photo/ Courtesy]
Enwealth Fanisi Program, the education scholarships initiative run by Enwealth Financial Services, has this year marked a new milestone announcing over 300 students fully sponsored for their high school education since its inception in 2012.
During this period, the company has supported needy and underprivileged students financially and through impactful mentorship to get through secondary. Enwealth Fanisi announced there will be 100 percent transition rate to institutions of higher learning for 2022 candidates. Currently, more than 40 students are in universities across the country, the majority of whom are undertaking Science, Technology, Engineering, and Maths (STEM) courses while others have joined the job market.
Enwealth Financial Services Director, Sharon Kisire commented during this year's scholarship award ceremony held at Enwealth Business Center in Nairobi. Since its inception, the Enwealth Fanisi program has disbursed over Ksh35 million making a lifetime impact on the students' lives, and the effects have trickled down to their families, and improved society.
"We believe that education is the foundation for all forms of development and a catalyst for growth and success in life. We are committed to providing education but we also want to change the lives of our beneficiaries. Students will not only benefit financially in terms of paid school fees but we also equip them with essential life and social skills to mold them into all-rounded people in society" Director Sharon Kisire added.
Fifty-five students have been awarded full high school scholarships this year with a commitment from the company to increase the numbers in coming years to meet the needs of society as witnessed through the high number of applicants. The program prioritizes orphaned or abandoned children, or whose either or both parents are living with HIV/AIDS.
Also speaking during the event, Ian Gichui, a former beneficiary who will be joining the university: "I am greatly indebted to Enwealth. The program's mentorship enabled me to stay focused on my studies instead of concentrating on the issues at home. They equipped me with the skills to become a better person and change the situation back home".