How I Made Ksh415 Million In 5 Months – John Ngumi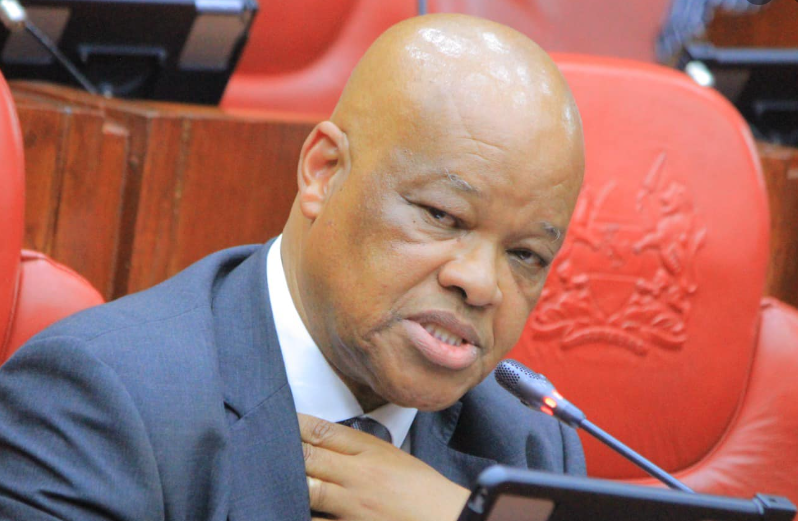 John Ngumi. [Photo/ Courtesy]
John Ngumi , the Executive Director Eagle Africa Limited, has revealed how he made a cool Ksh415 million in the Telkom Kenya deal that cost the government over Ksh6 billion.
Ngumi, who was an advisor to Jamhuri Holdings Limited, appeared before the National Assembly Joint Committees on Finance and National Planning and Communication, Information and Innovation which is investigating the deal.
He said he was contracted by Helios Investors Limited from 2016 to date, and his role was to be their strategic advisor for Kenya and Africa. He further explained that Jamhuri Holdings being a company run by funds raised by Helios, is how he came to be in Jamhuri Holdings.
The committee chair Kuria Kimani wanted to know what kind of skill he had that would make him get paid 3,071,163 USD (Ksh415 million) in a period of 5 months, for acting as an advisor to Jamhuri in connection with the sale of Jamhuri's shares in Telkom. He further wanted to know why he was paid in person and not through his firm.
"I was paid because I am the best in business and I had already helped Helios revive a company that was on its deathbed. They valued my advice against taking legal action against the Government of Kenya. It wasn't me imposing a fee on them," said Mr Ngumi.
The Committee also questioned Mr Karim Anjarwalla of Anjarwalla & Khanna Advocates, who was questioned on his role in Jamhuri Holdings Limited; the company he offers legal advice to, that financed a loan totalling 51 million USD, and made payments to different agents to a tune of 50 million USD and currently has a balance of 1 million USD. Mr Anjarwalla's law firm received 422,991 USD in payments as legal fees.
"You were also an Escrow agent for the transaction which means you were the party being paid for holding payment for transfer of shares and holding shares at the same time. You were acting for 2 interested parties. Being a law firm, and with the PFM Act for you to engage the Government of Kenya, was there consideration of the procurement process?" Asked Kimani.
"We were not legal representatives for both Jamhuri Holdings Limited and the Government of Kenya, we were only legal representatives of Jamhuri Holdings Limited and have documents supporting that. The government got independently advised, I did not advise the government in regards to this transaction." Replied Mr Anjarwalla.
The committee further wanted to know if he knew Mr Paul Cunningham, the Director of Jamhuri Holdings Limited and the instances they have met.
"Mr Cunningham is somebody I've known for 8 to 10 years. I have met him many times in London where he lives. The first time I met him in Kenya was when he appeared before your joint committee in regards to this investigation," said Mr Anjarwalla.
Mr Anjarwalla also informed the committee that he was not present during the signing of the Share Purchase Agreement between the Government and Jamhuri Holdings, and that Mr Cunningham and the government signed from wherever they were. He could however not certify whether the signing was done in person or via email.
The A&K Advocates however did not disclose the name and location of an investment bank that was paid 1 million USD as transaction advisor on Jamhuri's exit from Telkom early 2023.
The committee also held meetings with Adili Trustees Limited, who received 2,661,675 USD on behalf of the Telkom Kenya Management Incentive Plan, funds which were subsequently paid out to current and former staff of Telkom Kenya who had vested rights in the management incentive plan.
The trustees confirmed that Adili owns 5.21 percent of shares and did not participate in voting in any AGM. They also affirmed that the amount they received from Jamhuri Holdings was remitted to Adili Trustees for onward transmission to the beneficiaries.
The joint committee members requested for a detailed report on the names of the participants who received the payments and the amounts within the next 7 days for Members to refer to when making their decision.
The committee lastly heard from Mr Allan Wainaina, the Chief Finance Officer for Telkom Kenya Limited, who appeared on behalf of the CEO Mr Mugo Kibati. The joint committee wanted to know when Jamhuri Holdings injected USD 47 million into Telkom Kenya and how the funds were disbursed.
Mr Wainaina notified the committee that the funding was meant to be disbursed on a 60:40 basis, however, as the government was not able to inject its share of funding, Jamhuri injected its portion and the government's. The loans were disbursed and received on diverse dates between June 2016 and September 2017.
Mr Wainaina affirmed to have received incentives from Adili Trustees as part of the staff of Telkom Kenya.
The joint committee will continue these investigations on Thursday with other parties.