How I Rose From A Househelp To Renowned Businesswoman – Agnes Kagure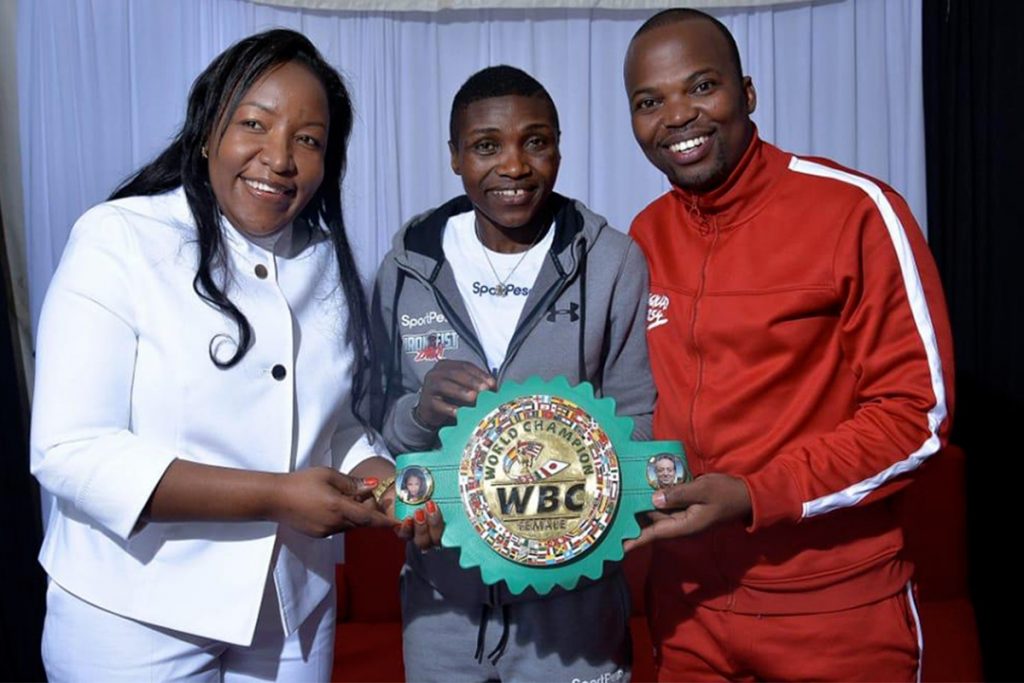 Agnes Kagure Kariuki, one of the women nominated for the Nairobi County deputy governor position, has for the first time revealed how she rose from humble beginnings to prominence in business circles.
Mrs Kariuki moved Kenyans watching Churchill Show last evening when she narrated how she started her career as a house help in Nairobi before scrapping her way into insurance, which gave her the lift she needed to not only make money but also a big name in the industry.
Mrs Kariuki, who would be voted best insurance salesperson for three years in a row by the Association of Kenya Insurers, said she was brought to the city in 1995 by a relative before her luck met opportunity.
"A friend of my mother called me to Nairobi to work as a house help," she said in an interview with Daniel Ndambuki, who hosts the weekly show. "But when I got to the bus station, the employer did not show up. I went back home and returned later to stay with my aunt."
While at her aunt's, she saw a newspaper ad for insurance sales people which she applied. While the job advert put the age limit at 25 Kagure, then 20, went ahead and applied and convinced the panel she had what it takes.
She started her life earning commissions and staying in Ruiru. She then moved to Mathare North and later to Dandora. When she got married, she shifted to her husband's house in Umoja then later to Kitengela.
Mrs Kariuki, 44, defied odds to rise to the top of the game, ending up owning an insurance agency, Insurance Consulting Group (ICG). In 1999, she was promoted to unit manager, where she recruited trained and managed agents.
She reveals her principle of success is persistence which, she says, conquers resistance. "If you are a messenger, do it like you are delivering to the queen and if in sales do it diligently and God will bless the work of your hands."
In 2005, 10 years after joining insurance, she was elevated to agency manager in charge of several units and agents. She says her people management skills were loved by those who worked under her.
She was indeed living by her maxim of FOCUS, which she translates to 'Follow One Course Until Successful'. A model she advices Kenyans to adopt.
Before establishing ICG, she was the Executive Financial Advisor at CFC Stanbic, and was involved in the merger between American Life Insurance Company (ALICO) and CFC Bank to form CfC Life Assurance Limited. In 2011, she was named in the Top 40 Women Under 40, an annual list of women who have risen to occupy positions of influence in Kenya before the age of 40.
In July this year, Mrs Karuiki was elected patron of the Kenya University Students' Organisation (KUSO) and is a recipient of the prestigious award of peace ambassador by the King of Thailand.
Read: Coast Tycoon Mwenda Thuranira Nominated For International Award
She said if appointed Nairobi Deputy Governor, her main focus would be to ensure Nairobians get enough supply of water. "It's not an easy task," she said. "It will be expensive exercise but I will start by training Nairobians on re-using water."
Mrs Kariuki vowed to support whoever gets the job is she's not picked. "I want to thank Governor Sonko for believing in women," she said.
Mrs Kariuki left the insurance in 2014 when she turned 40 to focus on business. "I had got all the trophies and become a mentor. I had to look for a bigger challenge," she said.
Besides her business, she deals with Mashinani women to empower them socially and economically. On money, she said: "Nobody can have enough. But I have a big heart and mastered the art of contentment."
Kagure also unveiled her husband Isaac Kariuki, a career civil servant, who described her as a humble woman who always creates time for family.