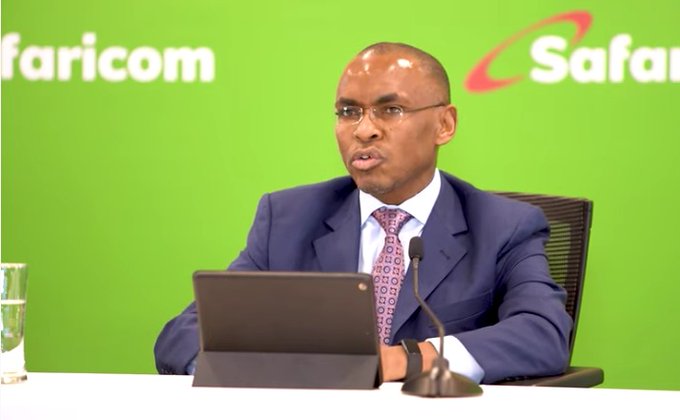 Safaricom CEO Peter Ndegwa. [PHOTO/ COURTESY]
 Safaricom has today announced plans to launch a Ksh20 a day 4G smart phone package aimed at empowering customers currently on 2G devices to upgrade and enjoy high speed internet connectivity.
The package is in partnership with Google and is based on insights and learnings from the Maisha Ni Digital campaign that saw over 1 million customers acquiring 4G enabled devices. The new campaign seeks to empower an extra one million customers to upgrade to 4G enabled devices in this financial year.
The announcement was made as the company released financial results for the year ended 31st March 2020 which saw the profit and total comprehensive income for the year grow 19.5% YoY but normalised for the exceptional share of profit of joint venture, at 14.3% YoY to Ksh71.7 billion with service revenue growing to Ksh251.2billion.
Speaking during the results announcement, Safaricom CEO Peter Ndegwa said, "smartphone device is critical in supporting the new realities brought about by COVID-19. This proposition aims to support Kenyans during and beyond this pandemic by enabling them access more opportunities, be it learning, working or running businesses from the comfort of their homes," said Ndegwa. More details on this will be released by the end of this quarter.
"Android's goal has always been to bring the power of computing to everyone. Access to the opportunities the internet offers is critical for any nations' economic growth and social inclusion. Majority of Kenyans and Africans at large access the internet via mobile broadband. In Kenya approximately 60% of the mobile phone install base is still on 2G feature phones and 40% smartphones with key barriers to people coming online being device and data affordability. We believe that this collaboration with Safaricom will bring more Kenyans access and the means to partake in the opportunities that exist online," Mariama Abdullahi, Director, Android and Platforms Partnerships for Africa.
Read: Safaricom Made A Profit Of Ksh196 Million Per Day In The Last Financial Year
This year's financial results were driven by growth in M-PESA revenue, which grew by 12.6% contributing 33.6% of the service revenue and mobile data which grew by 12.1% to KES 40.67 billion.
Key Highlights
Service revenue growth of 4.8% to KES 251.22 billion.
Voice service (incoming and outgoing) revenue shrunk by 1.4% to KES 94.45 billion.
M-PESA revenue grew by 12.6% to KES 84.44 billion.
Mobile data revenue increased by 12.1% to KES 40.67 billion.
Messaging revenue declined by 12.3% to KES 17.19 billion.
Fixed service revenue increased by 10.7% to KES 8.97 billion.
One month active overall customer base increased by 9.5% to 28.63 million.
One month active M-PESA customers increased 10.0% to 24.91 million.
One month active chargeable mobile data customers increased 10.2% to 19.62 million.
Safaricom also recorded 13.5% growth in EBIT (Earnings/profit before Interest) to KES 101.01bn with an EBIT margin of 38.6%, up 3.0 points YoY.
Free Cash Flow up 11.4% to KES 70.27 billion.
For all the latest technology and business news from Kenya and the world, follow us on Twitter and like us on Facebook.