Micheline Ntiru, Ola Brown, Maya Famodu Ignite Innovation at Women Who Build Africa's Tech Assembly in Nairobi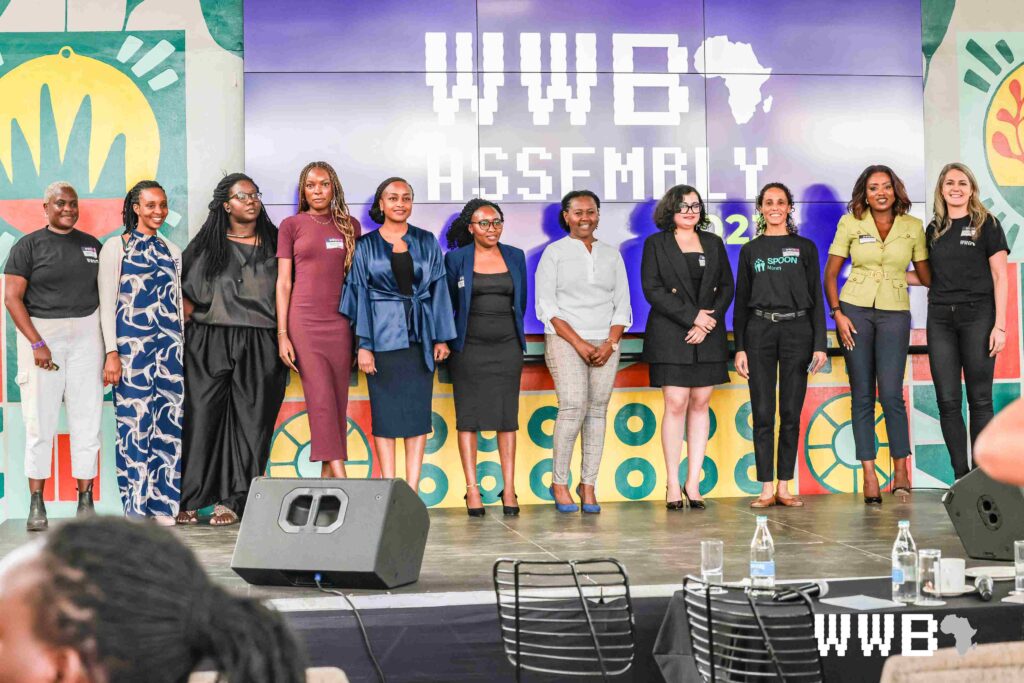 Early-stage women founders after their pitch flanked by WWBA Co-Founders, Gwera Kiwana (L) and Thea Sokolowski (R). [Photo/wimbart.com]
 Women Who Build Africa (WWBA) hosted its inaugural two-day assembly in Nairobi in September 2023.
The Assembly, aimed at fostering connections and stimulating discussions among women in the tech industry, attracted over 200 attendees from across Africa and globally, including notable names like Micheline Ntiru, of Kenya Climate Ventures, Dr. Ola Brown of HealthCap Africa, Maya Famodu of Ingressive Capital, Shola Akinlade and Amandine Lobelle of Paystack and many others. Part of the Kauffman Fellows Annual Summit agenda, this event also garnered substantial attendance from global and local investors, and ecosystem supporters. 
Providing a platform for engaging conversations covering a wide spectrum of topics, including empowering women entrepreneurs and addressing the gender disparity in leadership within the African tech ecosystem, the WWBA inaugural assembly highlighted actionable initiatives everyone can take to address the gender gap within venture capital firms and in funding opportunities.
Women fund managers have reported taking 2-3 times longer to secure their first fund compared to their male counterparts. Moreover, women-led founding teams receive less than 7% of total venture capital funding in Africa, despite the continent boasting a high number of women entrepreneurs. However, data consistently shows that firms with at least one woman partner and teams with women in leadership positions outperform their all-male counterparts.
Reflecting on the mission of the Assembly, Gwera Kiwana, Co-Founder, Women Who Build Africa, said: "We envisioned an assembly that would empower women in tech to not just embrace change, but drive it. Our goal is to create a community that sparks innovation, supports growth, and redefines the future of Africa's tech landscape."
The event consisted of a keynote by Micheline Ntiru, venture builder and investor, as well as a panel, led by A&A Collective, exploring strategies for increasing women's participation in venture capital. Panellists included Mika Hajjar of P1 Ventures, Maryanne Ochola of Endeavor Kenya, Harriet Adinkrah of 4DX Ventures, and Wambui Kinya of Google and Obuntu Foundation. Other themes explored include challenges women founders face in reaching later stages of funding, strategies to create inclusive spaces, and general advocacy for greater support for women in the venture capital ecosystem.
A fireside chat between Patricia Chin-Sweeney of Beyond Capital Ventures and Joyce-Ann Wainaina of Chui Ventures delved into innovative approaches to gender lens investing, emphasising the importance of fostering gender parity within businesses. The event also saw Shola Akinlade, Amandine Lobelle and Jemima Kenyanjui from Paystack share more about how the team at Paystack actively works to enable an inclusive work environment and how their intentional leadership that reflects the diversity of the organisation at large has created a more inclusive culture.
Maya Famodu of Ingressive Capital and Dr. Ola Brown of Healthcap Africa also shared their perspectives as women building venture funds and businesses. Ten early-stage women founders had the opportunity to pitch their businesses to an investor panel consisting of Loraine Achar-Ogada of Founders Factory Africa, Isis Nyong'o of Asphalt & Inc, Crystal Mugimba of Open Capital, Mukami Kamau of Chui Ventures, and Brenda Wangari of Madica.
The first day closed with a panel led by Enza Capital, where experienced women founders including
Caitlin Dolkart of Flare, Radhika Bhachu of Ndovu, Sneha Mehta of Uncover and Sonia Kabra of
BuuPass shared real stories and challenges related to their own fundraising journeys.
On day 2, discussions tailored for women founders were led by accomplished industry leaders, including Joanna Bishcel of Kasha Global, Hilda Moraa of Pezesha, Marie-Reine Seshi of Kola Market, and more.
A transformative event that ignited discussions and connections that are actively reshaping the future of tech on the continent, the WWBA Assembly serves as a beacon of empowerment and innovation, marking the beginning of a new era where women lead the way in Africa's tech landscape.