Bet Nare Inks Sponsorship Deal With Kenya Darts Association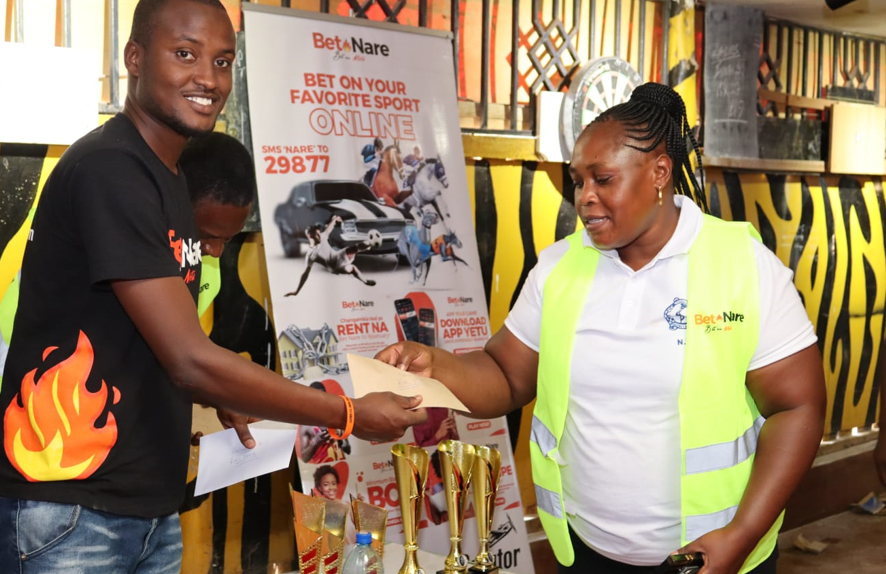 Bet Nare's Tony Kiraguri awards Ladies 3rd Runner up. [Photo/ Courtesy]
Kenyan betting company Bet Nare has inked a partnership deal with the Kenya Darts Association in a bid to promote the game in the country.
The partnership deal signed over the Easter holiday will see the betting company sponsor events organized by the Darts Association.
"Our vision and aim is to make sure that we get our people in Kenya and Africa on the map of the world because we know that Africa is a continent that is undermined everywhere. Bet Nare is looking for talent in Kenya, develop it and help and support the sport. We are also looking at supporting young talent for the future. We are also looking to grow the brand to enable us do more in the field of sports," said Bet Nare operations manager Terrence Mutongerwa.
"We are a startup company at the moment but we are growing and we want to grow with the people. We started with boxing then went to football and now darts and there is more. We are also going into disability sports," he added.
Speaking during the Quins Cup 2023 in Kahawa West, Nairobi, Kenya Darts Association chairman Wilson Githae said that at least 150 darts players who took part in the tournament benefitted from the first fruits of the sponsorship.
"We have many darts players in the country only that they do not come out because it is expensive for them to come out and finance themselves. If we can get more sponsorship for those players, we can have many players in one event. We have between 150 and 200 players taking part in the tournament (Quins Tournament 2023)," he said.
Currently, it is estimated that there are over 6,000 active players in the country, while others who play informally could be more.
"There is a lot of money in sports and we need to bring more people on board. If we can nurture young people, and that is what we want, we can do well. As early as primary school, we need to nurture them," added Githae.
"The idea of Bet Nare coming on board will help us market ourselves, which will bring more people on board. We want to popularize the game and also make sure people benefit.
Speaking during the same event, Kenya Darts Association secretary General Simon Kuria announced that they would hold a series of tournaments across the country following the sponsorship deal by Bet Nare. "It's not Nairobi alone. We are going to have tournaments across the country in Machakos, Kisii, Nakuru and other parts of the country. We shall have the Kenya Open Tournament in November, which is a regional event bringing on board players from Kenya, Tanzania, Uganda, Rwanda and Burundi," Kuria said.