Credit Bank Funds Meru Dairy Farmers To The Tune Of Ksh1 Billion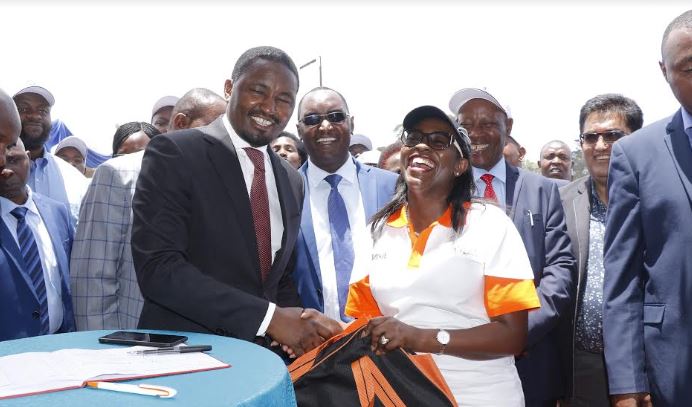 The Credit Bank has announced Ksh1 billion sponsorship for Dairy farmers and agribusiness farmers in Meru in a bid to boost production.
This was announced during the fifth Annual Dairy farmers open day in Meru that saw over 20,000 of farmers participate in the event.
The ceremony that was officially opened by the Cabinet Secretary Agriculture Hon Mwangi Kiunjuri who congratulated the input of Meru dairy into the agricultural sector in Kenya.
The Meru Central Dairy Cooperative Union and Credit Bank estimate that milk production capacity will rise from 300,000 litres per day to 600,000 per day. This will also enable the milk product range increase from milk and yoghurt to incorporate eight more milk products.
Meru Central Dairy Cooperative Union was formed in 2005 to market the excess milk from the local farmers which is now the main society of milk farmers in the Mount Kenya region, consisting of over forty three thousand dairy farmers and generating a turnover of over Ksh4.8 billion annually.
Speakingduring the event, Pamela Mutembei who is the head of business banking for Credit Bank assured that the bank is focused to support agribusiness sector and resultant value chain ecosystem.
Read: Polycarp Igathe Named Equity Bank's Managing Director
"Currently the bank is partnering with the farmers and the union to support acquisition through financing and insuring the machineries, building and livestock. This will effectively eliminate the losses that have been eminent in cases of diseases in livestock, machinery in cases of power shortage," added Isaac Thuiya, the local branch manager.
"We are so glad for the support the dairy and the bank has given us. Our milk now has a ready market and we are able to insure our cows and increase the dairy production through the guidance we have received and this has helped us educate our children," says Makena, a local farmer from Nkuene Dairy Farmers Association.