Glovo Partners With Domino's For Pizza Deliveries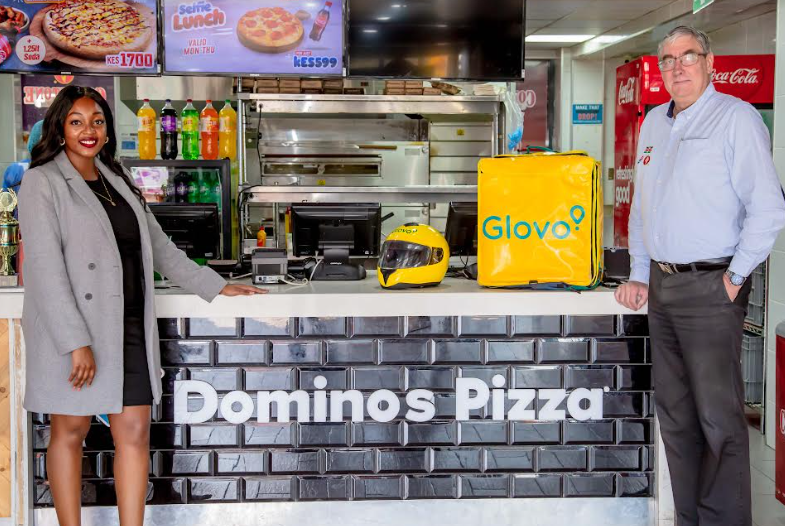 Ivy Maingi, Commercial Manager for Glovo Kenya and Peter Jones, Managing Director, Eat'N'Go Kenya celebrate signing a Memorandum of Understanding to kick off the partnership between Glovo and Domino's Pizza. [Photo/Courtesy]
Glovo has announced a partnership with multinational pizza restaurant chain, Domino's Pizza, to offer consumers access to affordable meals from the comfort of their homes and strengthen their customer base across Kenya.
The partnership is expected to offer consumers access to a steady supply of Domino's products through Glovo and ensure they receive their orders with a 25-minute free delivery guarantee for orders above Ksh800. Through this alliance, customers are poised to enjoy a seamless experience from point of purchase to point of delivery, in line with the joint goal of delivering an excellent customer experience.
Domino's Pizza is also currently the only brand on Glovo that offers free delivery for orders above Ksh800, which ties to its commitment to giving customers value for their money and promoting affordable enjoyment.
Commenting, Caroline Mutuku, Country manager, Glovo Kenya said that the partnership is another step to making meals more accessible to consumers through Glovo.
"We are excited to partner with Domino's Pizza, a brand synonymous with quality and taste. This partnership aligns perfectly with our mission to provide customers with a diverse range of choices and unmatched convenience. Now, in addition to our existing offerings, customers can indulge in the delight of Domino's signature pizzas, making their dining experience even more enjoyable," Ms Mutuku said.
"Upon analysis, insights revealed that in 2022, Glovo delivered at a rate of 1 pizza every 4 minutes in Kenya, achieving 23% growth in this product vs 2021 and an average of 146% over the last 3 years.  With Kenya being the second largest African market of pizza units delivered by Glovo, after Ivory Coast, this union between Glovo and the main pizza player in the country, Domino's Pizza, will foster the growth of the category to meet growing demand from consumers as can be seen from the data," added Ivy Maingi, Commercial Manager for Glovo Kenya.
On his part, Peter Jones, Managing Director, Eat'N'Go Kenya, reiterated that Domino's Pizza is renowned for its commitment to customer satisfaction and sees this partnership as an opportunity to enhance customers' needs in this digital age and provide them with an enhanced dining experience.
"At Domino's, our goal has always been to deliver happiness through delicious affordable pizzas and this partnership allows us to bring that happiness directly to the doorsteps of more customers. Leveraging Glovo's local expertise in the quick commerce industry, we believe this partnership will not only enable us to offer fast and convenient home delivery service that allows us to maintain exceptional service delivery, but also expand our customer base," Jones said.
Also commenting, Peris Gitau, Marketing Manager for Domino's Pizza explained that the partnership is in line with Domino's Pizza 25 minutes innovation strategy which allows the brand to personalize services based on customers' needs to receive their pizzas faster than before.
"Our customers' lifestyle trends have changed, and service delivery is a key component of customer satisfaction. Customers expressed their satisfaction hugely; with the extra time they are saving in getting their pizzas faster than before. The 25 Minutes innovation strategy not only enables us to serve our customers better but also solidifies our position as the industry leaders driving happiness with every order of our freshly baked hot pizzas," she said.
The partnership is currently active in Nairobi and Mombasa, with plans to expand to other cities in the coming months.