Sidian Bank Scoops 2 Accolades At 2023 Think Business Insurance Awards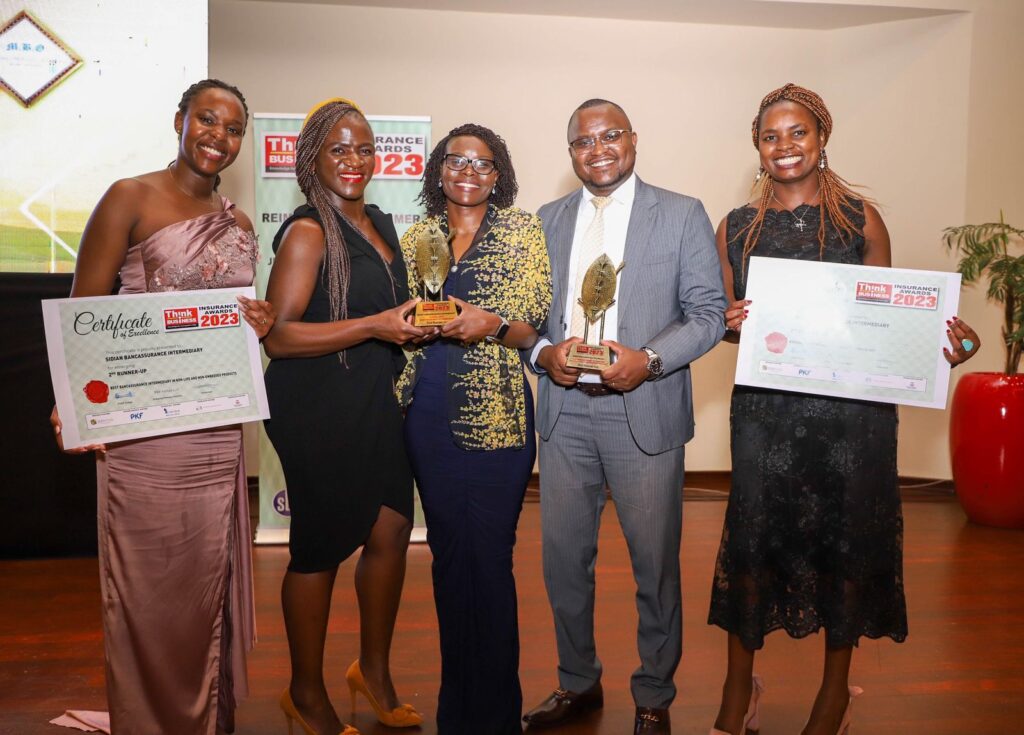 L-R: Edith Gaitho, Relationship Manager - Sidian Bancassurance Intermediary Limited, Abigael Opondo - Asst. Marketing Manager, Naomie Kemei, Senior Manager - Bancassurance, Paul Gitau, Business Support Manager - Sidian Bancassurance Intermediary Limited and Joy Gitau, Bancassurance Officer - Sidian Bancassurance Intermediary Limited at the Think Business Insurance Awards at Movenpick Hotel in Westlands. [Photo/Courtesy]
Sidian Bancassurance Intermediary Limited, a leading provider of innovative insurance solutions under Sidian Bank LTD, has announced its remarkable success at the prestigious 2023 Think Business Insurance Awards.
The event saw Sidian Bancassurance Intermediary Limited clinch two notable awards, reaffirming its commitment to providing unmatched financial solutions and transformational insurance products to its valued customers.
In recognition of its exceptional contributions and dedication to revolutionizing the insurance landscape, Sidian Bancassurance Intermediary Limited secured the title of 2nd Runners Up – Overall Best Bancassurance Intermediary. This award highlights the brand's relentless efforts in creating innovative and transformative insurance solutions that cater to the diverse needs of its valued customers.
Additionally, Sidian Bancassurance Intermediary Limited secured another notable accolade as the 2nd Runners Up – Best Bancassurance Intermediary in Non-Life and Non-Embedded Products. This recognition underscores the brand's proficiency in delivering comprehensive insurance solutions that encompass a wide range of non-life and non-embedded insurance products.
The awards ceremony brought together industry leaders, experts, and visionaries to celebrate excellence in the insurance sector.
Mr Chege Thumbi, CEO of Sidian Bank, expressed his gratitude for the recognition, stating, "We are immensely honoured to receive these awards at the 2023 Think Business Insurance Awards. These achievements underscore our ongoing commitment to empowering individuals and businesses with insurance solutions that truly enable them to 'Own Tomorrow'. We will continue to push the boundaries of innovation and excellence, ensuring that our customers receive the best-in-class products and services."