Siginon Group Bags Safety Transporter Award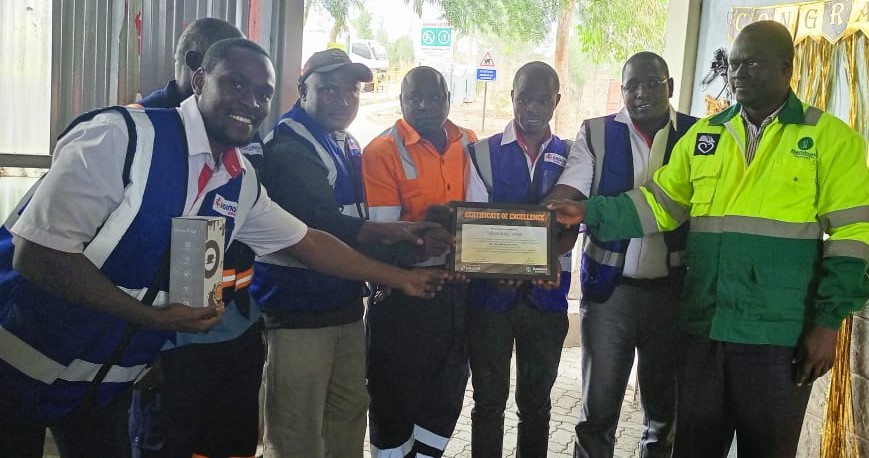 Siginon Group team receive the Bamburi 5 star safety transporters award certificate from Bamburi Supply Chain Director, Moses Were (right) during this year's annual awards which saw the logistics firm beat over 22 transporters in the market to win the prestigious award that audit 5-pillars to gauge transporters' performance while in operation. [Photo/Courtesy]
Transport and logistics firm Siginon Group has achieved five-star transporter status following this year's Bamburi Cement Plc transporters safety award.
The annual awards audit 5-pillars to gauge transporters' performance while in operation. The awards are part of an ongoing audit of 22 transporters in the market with Siginon Group emerging as the only transporter this year to attain the prestigious 5-star rating.
While receiving the award, Siginon Global Logistics General Manager Byron Kongere said it was an affirmation of the firm's commitment to safety, reliability and customer satisfaction. 
"We are happy to maintain and showcase our professionalism, efficiency and dedication to the highest industry safety standards while Powering Trade through logistics," Kongere explained.
This year's occasion which took place at the Bamburi Cement Athi River plant also saw top drivers awarded for exhibiting excellent road safety practices from a pool of over 1200 drivers who were audited.
Siginon Global Logistics drivers, Benson Kimanzi, Jackson Esebwe, Francis Hamisi, David Chesang and Majibu Bomu have received awards for driving safe kilometres this year. The awards are organized to recognize drivers and transporters who have succeeded in the safety audit process. 
The 38-year-old logistics firm offers customs clearance, warehousing, transport and container freight station services with a presence in Kenya, Uganda and Tanzania.
It serves the regional East Africa and Great Lakes region to handle and move cargo via the Port of Mombasa and Jomo Kenyatta International Airport (JKIA