Superior Homes, Gulf African Bank Ink Shariah Compliant Mortgage Financing Deal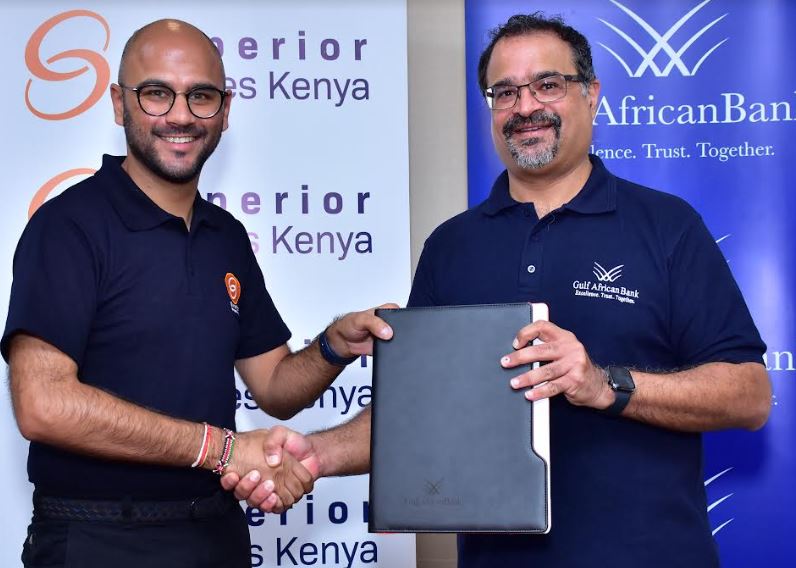 Superior Homes Kenya CEO Shiv Arora (L) and Gulf African Bank CEO Anuj Mediratta (R) during the signing of a partnership for Shariah compliant mortgage financing. Homebuyers will be able to access flexible mortgage financing at 11.75 per cent; the lowest rate in the Kenyan market. [Photo/ Courtesy]
Superior Homes (Kenya) PLC and Kenya's premier Islamic bank Gulf African Bank, have signed a partnership that will enable home buyers access flexible mortgage financing at 11.75 per cent, the lowest home finance rate offered by a Shari'ah Compliant Bank in Kenya. 
The partnership will see investors seeking to buy housing units developed by Superior Homes Kenya including Greenpark in Athi River and Pazuri at Vipingo in Kilifi County access mortgage financing within 48 hours and enjoy up to 90 per cent financing from Gulf African Bank, with a flexible financing repayment period of up to 20 years.
Speaking during the signing of the partnership, Superior Homes Kenya Chief Executive Officer (CEO) Shiv Arora noted that the partnership was timely and that it will help boost homeownership dreams for more Kenyans.
"Our focus as a developer is to make the homeowning process for our clients convenient, flexible, affordable and hassle-free. This partnership with Gulf African Bank will allow our customers to enjoy lower profit rates and more importantly position us strategically to reach the niche group of customers who are guided by Shariah values," said Superior Homes Kenya CEO Shiv Arora.
On his part, Gulf African Bank CEO Anuj Mediratta noted said that their customers will now be able to access financing needed to purchase housing units that meet their needs of affordability and quality.
"Our mortgage offering features mortgage transfers or takeovers from other financial institutions, outright purchases for new home buyers, diaspora mortgages and equity release arrangements. Interested buyers will enjoy a record unprecedented approval time of 48 hours and enjoy the most affordable mortgage rate in Kenya at 11.75 per cent. Customers will also enjoy a repayment period of up to 20 years. We have a diverse range of affordable mortgage and home financing solutions that are Shariah Compliant and in accordance with the Diminishing Musharaka Shari'ah agreement", said Gulf African Bank's CEO Anuj Mediratta.
With Kenya currently having a housing deficit of approximately two million units per year attributed to rapid urbanization and a high population growth rate, this partnership is timely as it will promote home ownership through flexible mortgage financing which reports show has remained low despite a high working population.