Absa Bank Relaunches Its China Desk To Support Growing Trade Between Kenya, China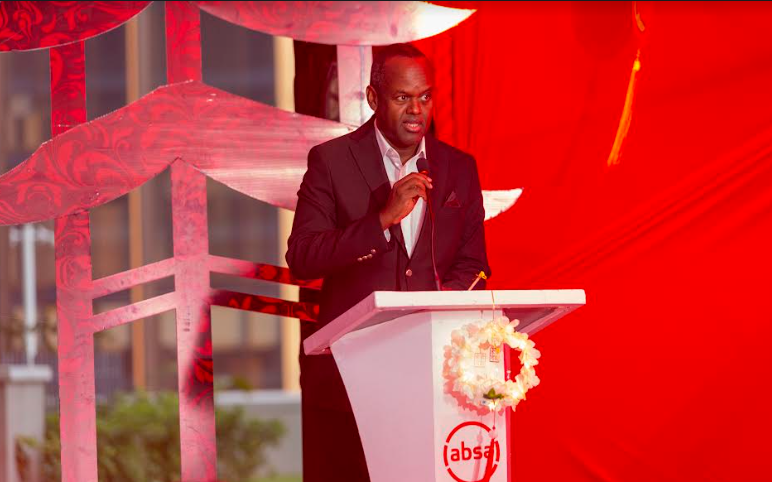 Absa Bank CEO Abdi Mohamed addressing the local Chinese business community during the Chinese Mid-Autumn Festival dinner event organised by the bank. [Photo/APN]
Absa Bank Kenya PLC has announced the re-introduction of a China Desk to offer tailor-made solutions to the growing community of Chinese investors and businesspeople operating in Kenya and the East African region.
This strategic initiative underscores the Bank's commitment to providing tailored financial solutions to support the growing trade between these two dynamic economies.
The new desk, which is fully staffed with Mandarin-speaking professionals will enable the bank to provide banking services such as project Financing, CPF financing, trade financing, Foreign Exchange and Hedging, Cross-Cultural Expertise, and access to a Global Network of experts.
Absa Bank's Managing Director & CEO Abdi Mohamed made the announcement during a dinner event attended by customers drawn from the Chinese business community in Kenya to mark the Chinese Mid-Autumn Festival on Saturday. He said the move is aligned to Absa's strategic priority to become a regional powerhouse in Corporate and Investment Banking, leveraging its regional presence to provide enhanced efficiency for clients looking to grow and expand their businesses.
He said: "The establishment of the China Desk is a response to the increasing demand for financial services and expertise in facilitating trade and investment between Kenya and China. As the trade relations between the two nations continue to flourish, Absa Bank is well-positioned to offer specialized support to businesses and individuals engaging in cross-border transactions."
China is one of Kenya's top trading partners and remains the single leading source of Kenya's imports, accounting for slightly over a quarter of total imports valued at KES 452.6 billion in 2022, according to the 2023 Economic Survey Report. On the other hand, Kenya's exports to China were valued at KES 27.5 billion in 2022 compared to KES 21.9 billion in 2021, representing a 25.8 percent increase.
"Indeed, China has been a critical participant in Kenya's economic growth and development story over the last two decades, supporting modern infrastructure projects that have laid a solid foundation for Kenya's long-term economic growth. We recognize the immense potential for growth in this area and provide the financial tools and expertise required for businesses to thrive in both markets" added Mr. Mohamed.
The Mid-Autumn Festival is an evening celebration when families gather to light lanterns, eat moon cakes and appreciate the round moon. On that night, the moon appears to be at its roundest and brightest. The full moon is a symbol of family reunion, the reason the day is also known as the Festival of Reunion.