Glovo, Nairobi County Launch Mass Courier Safety Training Program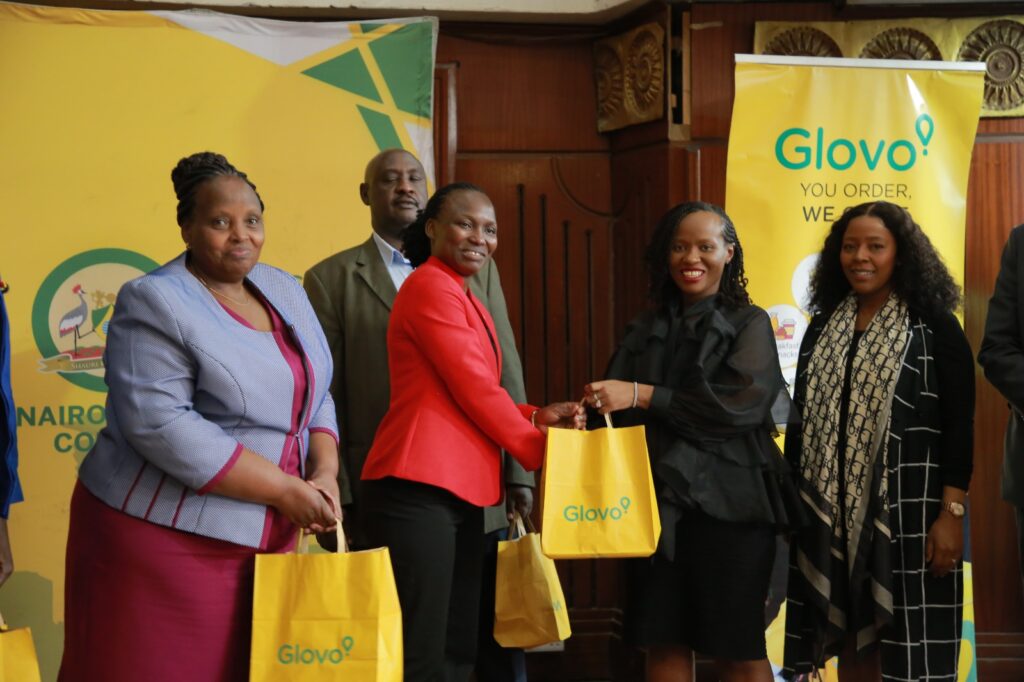 Nairobi County and Glovo Kenya officials during the launch of the mass courier safety training held on Tuesday, July 25th at Charter Hall, Nairobi. [Photo/Courtesy]
Glovo, the leading on-demand delivery platform, has collaborated with the Nairobi City Council to run a mass courier safety training in the city, tagged the Catalyst Project.
The project was launched recently at an inaugural training session which held on Tuesday, July 25th at Charter Hall, Nairobi, and marked a significant milestone in enhancing courier safety standards and professionalism within the city.
Designed to instill professionalism among dispatch couriers and delivery drivers, as well as to educate them on the best practices regarding the courier business in the country, the Catalyst Project is set to train a total of 150 couriers in the city with 50 of them being Glovo couriers, and 100 from the city council.
The program will provide participants with essential training on motorcycle riding techniques to ensure heightened road safety, as well as in-depth instruction on customer service, financial literacy, and digital skills, all of which are vital for fostering a more efficient and proficient courier network.
The inaugural training event was graced by the presence of key dignitaries from the Nairobi County and Minister of Transport office.
"The MOU between Nairobi City County and Glovo is premised on 4 pillars namely SME Growth and investment, Courier services, sustainable development, and thought partnership including digitization of courier and Boda Boda services in the city. This training program is not just about equipping them to carry passengers and packages, it is about fostering a culture of empowerment, professionalism, and community engagement," Molly Achieng, Deputy Director, Donor Coordination and Stakeholder Engagement said.
In her remarks, Caroline Mutuku, the Country Manager for Glovo Kenya said, "We are extremely delighted to successfully launch the Catalyst Project to deepen capacity building and drive positive social change in Nairobi's courier ecosystem. Through this transformative initiative, we aim to empower couriers with the knowledge and expertise needed to excel in their roles while prioritizing road safety."
As part of Glovo's commitment to encouraging active participation, the Catalyst Project awarded prizes to outstanding participants, including essential safety gear and cash incentives. Additionally, Glovo provided safety gear in the form of reflectors to all participating couriers, further reinforcing its dedication to fostering road safety.
Furthermore, Glovo, in its bid to promote safety amongst couriers collaborated with Pan-African eyewear brand, LaPaire to provide three weeks of free eyesight checks in its centers in Ivory Coast, Uganda, and Kenya.  The goal of the initiative was to provide better conditions for couriers to deliver safely as most of them have never tested their eyesight. 
Results from the checks showed that most of the couriers that attended have some kind of eyesight issue and for that reason, Glovo will be sponsoring the cost of the basic glasses for interested attendees.
Also commenting, Nanzia Johm Mbaga, Impact & Sustainability Lead for Glovo Africa said, "Through these initiatives, Glovo remains steadfast in its mission to foster positive change within the courier industry and promote safer roads, improve customer experiences, and impact the overall growth of couriers in Nairobi and beyond."