Jubilee Health Insurance Intermediaries Feted For Enabling Access To Healthcare For All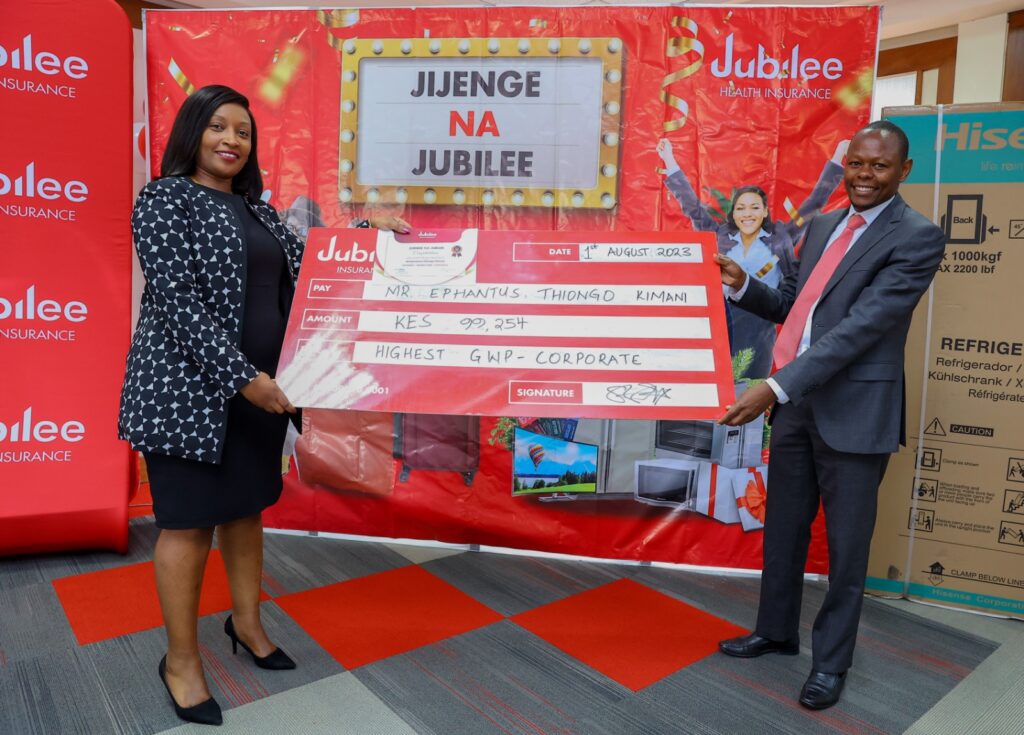 Empowering Lives: Jubilee Health Insurance Recognizes Intermediaries Enabling Access to Healthcare for All. [Photo/Courtesy]
Jubilee Health Insurance, a leading advocate for healthcare accessibility, has celebrated the exceptional contributions of its intermediaries in bringing health insurance within reach to all Kenyans.
The prestigious Q2 Jijenge na Jubilee Awards ceremony was momentous, recognizing and lauding the intermediaries' outstanding efforts in transforming lives through accessible health insurance.
Jubilee Health Insurance's commitment to empowering lives shone bright with over Ksh1.3 million awarded to intermediaries since the inception of the Jijenge na Jubilee campaign. In Q2 alone, the company granted over Ksh800,000 in rewards to its dedicated partners, reaffirming its dedication to acknowledging excellence.
Njeri Jomo, CEO of Jubilee Health Insurance, emphasized the pivotal role intermediaries play in the company's mission
"Our intermediaries are the driving force behind our vision to make healthcare accessible to every individual in Kenya. The Q2 Awards are a heartfelt tribute to their unwavering dedication in bringing quality healthcare closer to communities," Jomo said.
One of the award recipients, Ephantus Kimani, expressed his heartfelt appreciation, saying the awards motivate them to continue working tirelessly to impact the lives of clients positively
"Being recognized by a reputable insurer like Jubilee Health Insurance for my efforts in empowering lives through health insurance is truly an honour. As an intermediary, these awards motivate us to continue working tirelessly to impact the lives of our clients positively. I commend Jubilee Health Insurance for this remarkable program," Kimani said.
The award recipients were honoured for their remarkable performances, collaborative spirit, and unyielding commitment to extending comprehensive health insurance nationwide. Their relentless efforts have made a lasting impact, providing essential healthcare services to individuals and families, thus safeguarding their well-being.
"The Q2 Jijenge na Jubilee Awards are a testament to the extraordinary work of our intermediaries. Their dedication and commitment have been instrumental in achieving our vision of making healthcare accessible to all Kenyans. Together, we will continue to empower lives and create a healthier future for our nation," Jomo said.
The ultimate prize in the Jijenge na Jubilee program is a brand new apartment, which will be awarded to the top achiever at the end of the year. As the largest incentive program in East Africa, Jijenge na Jubilee continuously inspires intermediaries to strive for excellence in making healthcare accessible through affordable insurance products.
"Jubilee Health Insurance's dedication to empowering lives and fostering positive change remains steadfast. The company's strong partnership with intermediaries and its unwavering determination to touch the lives of millions underscore its position as a trailblazer in the industry," Jomo added.