Sidian Bank Relocates Machakos Branch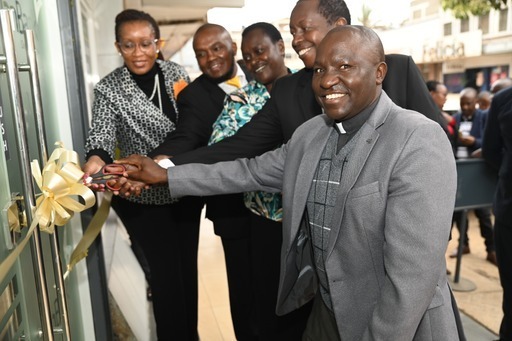 Catholic Priest and Sidian Client (Father Peter Muema Vavu), Sidian Bank, CEO (Mr. Chege Thumbi), Machakos University Vice Chancellor (Prof. Joyce Agalo), Sidian Bank, Branch Manager Machakos (Peter Kasoa) and Sidian Bank, Head of Branches (Loise Mwangi). [Photo/Courtesy]
Sidian Bank, a leading mid-tier bank in Kenya, has announced the relocation of its Machakos Branch as part of its ongoing efforts to solidify its brand presence and achieve its expansion strategy.
The new branch location is set to further enhance the bank's commitment to providing excellent services and supporting Small and Medium Enterprises (SMEs) through innovative financial solutions.
The decision to relocate the Machakos Branch comes as a strategic move by Sidian Bank to grow its footprint in the region. The bank's focus on SMEs as the "home of biashara banking" has been instrumental in expanding its market presence and customer base. The new location is poised to offer enhanced services while reflecting the bank's contemporary brand outlook.
Sidian Bank has gained significant recognition for its unwavering support to SMEs through its flagship product, Trade Finance. As a market leader in the trade finance industry, the bank has been providing a comprehensive range of financial solutions tailored to the needs of SMEs.
This commitment to empowering SMEs with flexible terms and quick turnaround times has cemented the bank's position as a people-centric and technology-driven financial institution.
Speaking at the launch, Sidian Bank's Chief Executive, Mr Chege, expressed the bank's ongoing commitment to supporting their customers and catering to their business needs.
He stated, "Our primary goal has always been to provide unwavering support to our customers, helping them find tailored solutions for their business requirements. With the relocation of our Machakos Branch, we are determined to enhance customer experiences, embracing a more modern and forward-thinking approach that aligns with our brand identity."
Mr. Chege further emphasized that the bank is dedicated to empowering the business community in the Machakos region.
"Sidian Bank aims to achieve this by offering a range of innovative solutions specially designed to bolster small and medium-sized enterprises (SMEs). These solutions will enable the local business community to grow, prosper, and contribute significantly to the economic development of the region," he added.
Sidian Bank takes pride in its customer-centric approach, which remains a key pillar in the bank's mission to empower its customers to embrace the opportunities of tomorrow. With a network of 43 branches nationwide, the bank remains committed to fulfilling its expansion strategy through a growth-oriented approach.
The Machakos Branch relocation marks the beginning of Sidian Bank's expansion journey, and the bank plans to open more branches in the coming days. By increasing its footprint in diverse areas, Sidian Bank aims to offer its customers even more convenience and accessibility to tailor-made financial solutions that meet their unique needs.