Startimes Upgrades Bouquets Ahead of Festive Season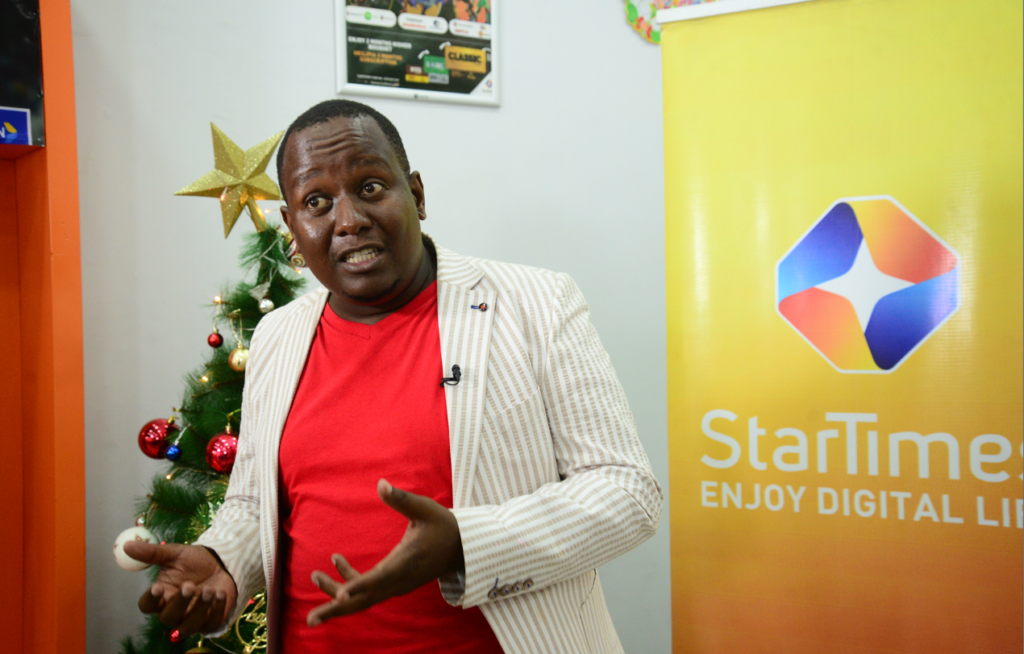 Mr. Myke Mwai StarTimes Media Content Director gestures while outlining the features of a new subscriber campaign that will see both terrestrial and satellite platform subscribers enjoy automatic access to higher bouquets at the cost of lower bouquets for the first 15 days upon renewal of their monthly bouquets of choice. [Photo/ Courtesy]
Pay Television Company StarTimes Media is set to enrich subscriber's viewing experience following the introduction of a bouquet upgrade campaign that will see subscribers on both terrestrial and satellite platforms enjoy automatic access to higher bouquets at the cost of lower bouquets for the first 15 days upon renewal of their monthly bouquets of choice.
StarTimes will offer more premium channels for every subscription renewed where subscribers on terrestrial platform's Nyota bouquet will for the initial 15 days access content reserved for Basic bouquet while subscribers on Basic will access Classic bouquet for a similar period with Classic subscribers earning an extra three days upon subscription renewal.
Subscribers on the brand's satellite television platform will equally enjoy an initial 15 day bouquet upgrade where Nova bouquet subscribers will access Smart bouquet content for the first 15 days upon subscription renewal, Smart subscribers will access initial 15 days on Super bouquet while Super bouquet subscribers enjoy an extra three days at no extra cost.
"As it is our tradition, we aim to give back to our subscribers every festive period through diverse efforts aimed at enriching their television viewing experience and what a better way to do it than to provide access to more premium content at the same most affordable subscription fees," said Mr Myke Mwai, StarTimes Content Director.
StarTimes is also set to launch a new exclusive local drama known as KIU which will be available on the pay platform's local content channel – Rembo TV from 12th December. The new drama series which will feature over 100 episodes joins a variety of exclusive local content productions by the broadcaster following a commitment earlier in the year to inject an additional Ksh200 Million investment in local content development in 2022 following the success of the company's local content channel – Rembo TV.
Rembo TV is available across three East African countries that is Kenya, Tanzania and Uganda thereby presenting an enviable platform to market Kenyan productions across the regionand is available across all StarTimes bouquet options on terrestrial and satellite platforms.
StarTimes has a choice of three bouquets on the terrestrial platform with the superior Classic bouquet retailing at only Ksh899 while the other two bouquets include Basic and Nyota retailing at Ksh599 and Ksh299 respectively.
The broadcaster's satellite television platform has the monthly subscription option of Super, Smart or Nova bouquet retailing at Ksh1,499, Ksh]999 or Ksh]449 respectively.